October is a significant month in the story of the only watch flight-certified by NASA: the OMEGA Speedmaster Moonwatch Professional.
To learn why, we need to go back in time almost six decades, when this gorgeous and highly technical timepiece was known simply as the "OMEGA Speedmaster."
Yeah, He'll Need a Nice Watch
In 1962, astronaut Wally Schirra purchased an OMEGA Speedmaster for himself, knowing he'd need a reliable timepiece for his journey on the fifth crewed spaceflight in U.S. history: the Mercury-Atlas 8 mission.
At that time, the OMEGA company was 114-years young. The OMEGA watch movement already had a storied history as a pocket watch, wristwatch and navigational clock.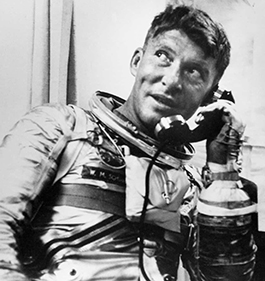 OMEGA was named the official timekeeper at the Olympic games starting with the Los Angeles games in 1932, and an OMEGA 39 CHRO was installed as the navigational clock on board the aircraft Amelia Earhart used for her attempted daredevil flight around the world in 1937.
On October 3, 1962, Wally Schirra and his "Speedy," as watch-lovers know the famous chronograph, blasted off into space for a mission that would take nearly nine hours and include six orbits of the Earth.
Image: Wally Schirra wearing his OMEGASpeedmaster CK 2998 on board the recovery ship USS Kearsarge, October 3, 1962, following his successful completion of the Mercury-Atlas 8 mission. Photo Credit: NASA
That Was Just the Beginning
Schirra's OMEGA Speedmaster became the first OMEGA in space, but certainly not the last. Schirra may have appreciated his OMEGA for the brand's reputation for precision, its three subdials for timing hours, minutes and seconds, and for the waterproof case, handy for a mission with a planned splash-down landing.
But two years later, when NASA decided to select a watch to officially become part of astronauts' gear, the agency discovered the OMEGA Speedmaster had a toughness and utility that exceeded that of other major brands when it alone sailed through their eleven rigorous tests designed to simulate extremes of temperature, radiation and other challenges encountered in space.
After NASA certified the OMEGA Speedmaster and ONLY the OMEGA Speedmaster for spaceflight, the watch became the first watch on the Moon during the Apollo 11 mission, worn by both Neil Armstrong and Buzz Aldrin.
Known today as the OMEGA Speedmaster Moonwatch Professional, the watch has been worn in space by a number of astronauts and remains the only watch flight-qualified by NASA for travel to the Moon and for work on the lunar surface.
October Is Also Important for YOU
Besides the fact that the OMEGA Speedmaster first went to space 59 years ago in the month of October, there's another reason October is important for this watch.
It's the month you could enter to win one: for FREE!
Cosmosphere is raffling off a brand-new OMEGA Speedmaster Moonwatch Professional, valued at $6,300 retail. The raffle continues through December 4.
Click here to purchase tickets online. Ticket prices start at just $25 for one.
For the month of October only, anyone starting a Cosmosphere patron-level membership earns a FREE raffle ticket!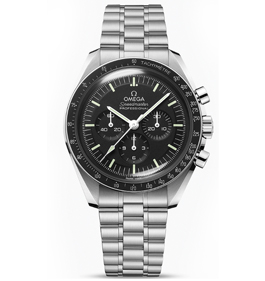 Also during October, current Cosmosphere members who upgrade to (or within) patron membership levels earn a free raffle ticket for themselves.
You have less than a week to take advantage of your FREE chance to win this handsome, important timepiece.
Start or upgrade your patron-level Cosmosphere membership by clicking here now.
Your raffle entry will be logged automatically.
For more information on Cosmosphere's OMEGA Speedmaster Moonwatch Professional raffle, contact Kelsey Genschorck, Development Coordinator, at kelseyg@cosmo.org.
Sources for this article:
Speedmaster:The First Watch on the Moon, by Ignaz Miller, tr. Michael Johnson, published in 1994 by OMEGA.