We can't wait to hear what you think of this engaging live science demonstration that entertains all ages. There are explosions (don't try this at home, kids) and bright lights, so please consider the needs of everyone in your group as you purchase tickets for this attraction.
Fun fact: Dr. Goddard's Lab has inspired kids to be rocket scientists when they grow up!
Our Universe Ticket Package
Our Universe brings together two venues that will show you what it took to power humankind to space and what you might see when you look up to the night sky in wonder. Dr. Goddard's Lab and the Justice Planetarium are located in the Our Universe Gallery and presented as one ticket.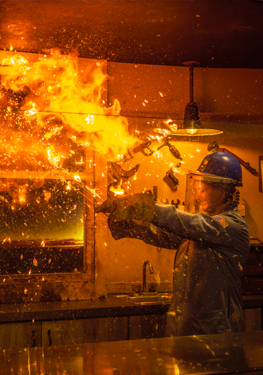 Take a trip back in time to the 1930s lab of Dr. Robert Goddard, the father of modern rocketry. This interactive show— packed with some explosive surprises— uses live demonstrations to take visitors on a journey through the history of rockets. Viewers are warned not to try these experiments at home!
Seating is limited and times are subject to change. To guarantee entry to the show, we recommend purchasing your ticket in advance. Call 620.665.9347 or 800.397.0330 ext. 347 to purchase your advance tickets. Please contact the Box Office at 620.665.9312 to check times for the day you're visiting. 
Visit the Cosmosphere, the greatest space museum on planet Earth.