1) OMEGA Speedmaster Worn by Alan Shepard during his Apollo 14 Moon-Landing
At the Cosmosphere Since 1982, on loan from the Smithsonian National Air and Space Museum.
When asked what makes the OMEGA watch worn by Alan Shepard during his Apollo 14 Moon-landing so special, Cosmosphere curator Shannon Whetzel doesn't even have to pause to think.
"It's cool because…this one went to the Moon!"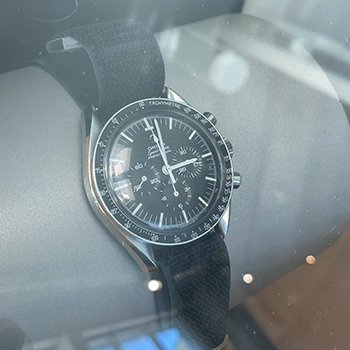 She also realizes how important the watch brand itself is for watch aficionados.
"People who collect watches can geek out on the watch itself. People who know watches know OMEGAs."
Cosmosphere's OMEGA Speedmaster Moonwatch exhibit facilitates mad geeking by including an exposed watch back under an elegant magnifying lens for visitors to ooh and ahh, and make tiny ticking noises, or whatever watch geeks do, over the deliciously shiny and precise instrumentation (over 150 intricate parts!).
If you're more the sentimental type, the exhibit includes a hand-signed letter from Eugene Cernan written in 2002, fondly recalling the way his own OMEGA Speedmaster kept him connected to his children waaaaay back on Earth during his own lunar mission on Apollo 17. (Bring tissues!)
Give Shepard's watch another look to experience a dimension of this artifact that tickles Cosmosphere's Curator. Whetzel notes:
"It's so funny, isn't it? Here's a high-dollar, precision, amazing watch, but you know, on the Moon, they put it on with Velcro®. No fancy band. Just Velcro®. But it works!"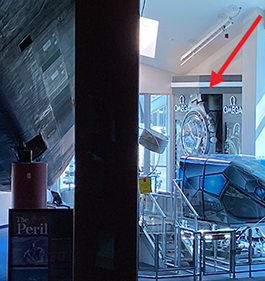 Get your fashion faux-pas Schadenfreude from the VERY long Velcro® strap provided for astronauts to wind around their fat spacesuit sleeves.
For fans of utility over fashion, it's vindication time.
Imagine fumbling to clasp a giant conventional watch band around the puffy arm of a spacesuit, on a mission where time is short and every second away from lunar exploration is a second away from historic discoveries.
Even the most Prada-devoted devil would wear Velcro®!
So much cool watchness. But, uh, WATCH OUT. Downstairs in the Hall of Space Museum…There. Are. Three. More!
2) Yuri Gagarin's Campos Wrist Watch
In Cosmosphere's collection since 1995.
Ogle the face of the personal watch worn on the actual wrist of the actual first human in space. This particular watch didn't go to space with Gagarin, but it was, indeed, worn by him. It's got his ju-ju.
(That's official museum insider-speak.)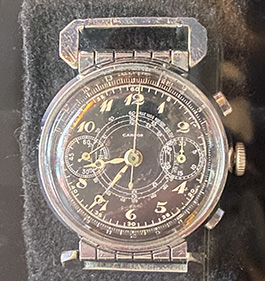 3)    Shturmanskiye Watch (bonus points if you can pronounce it right!)
In Cosmosphere's collection since 2005.
The same model worn by Cosmonaut Yuri Gagarin during his Vostok 1 spaceflight, this authentic Shturmanskiye (Russian for "navigator") was made by the Poljot watch factory in Moscow, one of the oldest and most prestigious watch factories in the former Soviet Union.
A boss piece of history from a boss watchmaker.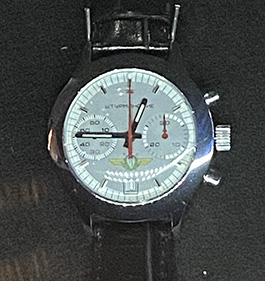 4) OMEGA Speedmaster X-33, flown in the shuttle program.
In Cosmosphere's collection since 2006.
Note the easier-on-the-eyes, higher-end watch band designed to fit around a regular ol' wrist (as opposed to a spacesuit). This watch was issued by NASA and not personalized by OMEGA, as will happen when they issue a watch directly to an astronaut.
This clean, enticingly simple watch face makes a fun "compare-contrast" with the commandingly complex face of the OMEGA Speedmaster Moonwatch Professional.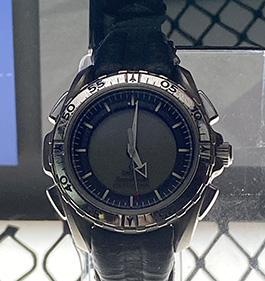 BONUS 5) 
In Cosmosphere's collection since 2019. Not on display.
In the USSR, Yuri Gagarin, the first human in space, was celebrated as a living legend. From magazine covers to patches, pins…and wristwatches, the Soviet people couldn't celebrate enough their First Man in Space.
Cosmosphere was lucky enough to receive this rare watch as a donation from Dave and Patty Kerr in 2019.