Cosmosphere joins Smithsonian Affiliates around the country to share uplifting LGBTQ+ stories today for the start of Pride Month 2022. We're highlighting two NASA professionals who serve as role models for LGBTQ+ people interested in STEM and NASA.
Better Because She's Queer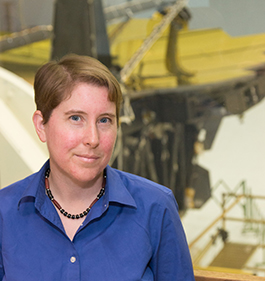 Dr. Jane Rigby, Operations Project Scientist for NASA's James Webb Space Telescope and an astrophysicist at NASA's Goddard Flight Center in Greenbelt, Maryland, was recently awarded the 2022 LGBTQ+ Scientist of the Year by Out to Innovate, an organization recognizing LGBTQ+ professionals in STEM fields.
Dr. Rigby holds a Ph.D. in astronomy from University of Arizona. She currently works to develop new techniques to study galaxy evolution, star-forming galaxies, and active galactic nuclei. Dr. Rigby has over 100 peer-reviewed publications!
One letter of support for Dr. Rigby's LGBTQ+ Scientist of the Year award commended her "unwavering stand that she is a *better* astronomer because she is queer… because of the leadership training she received as a LGBT activist, and because of the resilience she has developed by surviving as an LGBT person."
"I hope this award brings hope to queer folks pursuing careers in STEM," said Dr. Rigby, "and I hope it reminds organizations that inclusion matters every single day."
He Lifts Up Other LGBTQ+ Employees at NASA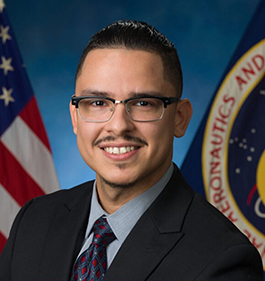 Mr. Daniel Zapata, Budget Analyst at Johnson Space Center, is one of the employees NASA has highlighted as a Pride Month role model. "When I started working full-time at NASA, I decided that I would be an out employee," said Mr. Zapata. "I didn't want to hide who I was or who I loved at work….I have been fortunate to work alongside some of the most amazing and supportive colleagues that I have ever met."
In fact, working at NASA helped Mr. Zapata along his own journey of self-acceptance. As a child in Miami, Florida, he was taught being gay was wrong. He tried ignoring his feelings, but finally came out to his mother at age 21. This move coincided with the start of his time at NASA.
"I joined NASA JSC as a Pathways intern. Through my involvement with JSC's Out & Allied (O&A) Employee Resource Group, I was able to participate in the NASA JSC's 'It Gets Better' video, walk in my first Pride Parade and attend multiple guest speakers. Over time, these experiences made me more comfortable with who I was."
Mr. Zapata eventually became chair of Johnson's "Out & Allied" group. "I am Out and Proud because I want to be a role model," said Mr. Zapata. "I want people to know that you can bring your full, authentic self to work."