An enormous OMEGA watch displays the time to visitors from the southwest corner of the Cosmosphere lobby.
But did you know that the same display houses some rather notable artifacts—including a watch worn on the Moon by the first U.S. Astronaut. Read below to find out more!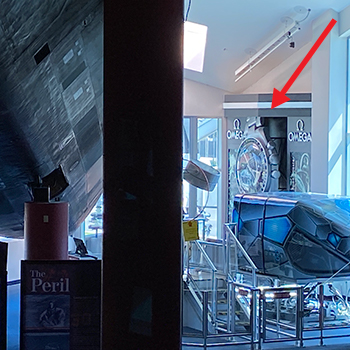 OMEGA + NASA = A Match Made in Space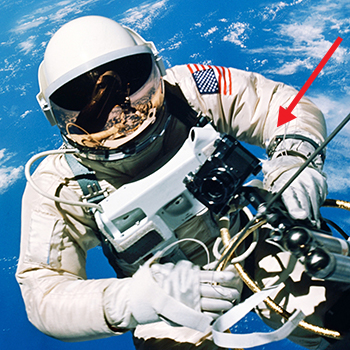 On June 3, 1965, Ed White made history when he became the first American to successfully complete a spacewalk. The Gemini 4 astronaut spent 23 minutes floating from Hawaii to Florida that day, cruising at a cool 17,500 mph, directing his movements with the aid of a maneuvering gun and even posing for a quick pic. In the photo, White dons an OMEGA Speedmaster watch on the outside of his spacesuit. The Swiss-made timepiece had recently been officially confirmed "flight qualified for NASA for all manned spaceflight mission" that year—after surviving numerous tests by NASA. Though an OMEGA timepiece had previously logged spaceflight on the Sigma 7 mission when astronaut Wally Schirra worn a watch which he'd purchased himself—White's spacewalk was the first official mission to feature the brand. OMEGA watches have been a mainstay of each NASA mission since.
From Gemini to the Moon, the Space Shuttle to the International Space Station, the Speedmaster has both measured and stood the test of time.
While the watch serves the very necessary purpose of tracking minutes, hours and even speed while being worn in space, the timepiece also offers a bit of "home" to the wayward explores who wear it.
"Although a unique compliment to the technology I had available to me on the Moon, my OMEGA Speedmaster was more than that—it was my window into the reality of my life I had left days ago back on planet Earth,"— Apollo 17 Commander & the last man to walk on the Moon, Gene Cernan
At the Cosmosphere, visitors can get up close to an authentic OMEGA Moonwatch on display… and this isn't just any old Moonwatch—it happened to belong to the first American who flew in space, Alan Shepard! Though not from his first space flight, the OMEGA on display at the Cosmosphere is from the Apollo 14 mission, where Shepard wore the watch on the lunar surface and where he also became the first human to hit a golf ball on the Moon.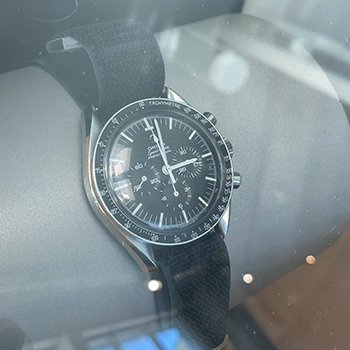 Now YOU have the chance to win your very own piece of spacefight history with the Cosmosphere's OMEGA Moonwatch drawing. Buy your tickets now!