Live music and dance performances to happen in the Grand Lobby beginning March 12 and continuing through the rest of the month.
Other special Spring Break activities include guided tours of the museum, solar observing, special music-centered children's activities, flying drones, underwater robotics and more
CLICK HERE FOR THE MARCH 12-18 SCHEDULE
CLICK HERE FOR THE MARCH 19-25 SCHEDULE
Now Showing: New Documentary
"America's Musical Journey" is a joyful, tune-filled tour of some of the nation's iconic musical cities and celebrates unique cultural diversity. Audiences will be entertained and educated as the film laces together art, history, language, and science over a soundtrack of great music.
For showtimes, call: 620.665.9347 or 800.397.0330 ext. 347, or visit www.cosmo.org.
Live Musical Performances
Beginning March 12, see live musical and dance performances in the Grand Lobby! Listen to a variety of music from acoustic duos to school bands, and even participate in a swing dancing session.
Monday, March 12
12:30-2:00 pm: 50 Years Late, 50's and 60's music, on the shuttle wing.
Thursday, March 15
10:00-11:30 am: Brad Shores of Tropical Shores Steel Drum Band, steel drums/Tropical Style. tropicalshoresband.com
Friday, March 16
11:45 am-12:15 pm: Buhler Singers of Buhler High School, on the shuttle wing
Saturday, March 17
1:00-3:00 pm: Barry Jones, guitar and vocal/Americana style, on the shuttle wing.
3:00-3:30 pm: Swing Dance Lessons with Myra and Jim Kitson of Metropolitan Coffee, in the lobby under the Blackbird. Wear slick soled shoes. metrocoffeehutch.com
3:30-5:00 pm: Swing Dancing with Myra and Jim Kitson of Metropolitan Coffee, in the lobby under the Blackbird. Wear slick soled shoes.
Sunday, March 18
12:00-2:00 pm: Lena Sawyer, keyboardist, on the shuttle wing. lenasawyerpiano
Tuesday, March 20
10:00-10:30 am: Don't miss students from Bethel College Academy of Performing Arts with Suzuki violin students led by Rebecca Schloneger and dance students performing their own choreography.
Wednesday, March 21
12:00-12:45 pm: Community Sing-A-Long with a Spacey Twist! Lead by Bob Colladay and his ukulele in the lobby under the Blackbird. Bring your lunch or stay for lunch in the Cosmosphere Cafe!
4:30-5:30 pm: Ji Shim Anderson, Cello Performance and Education in the Discovery Room (2nd floor). Kids are encouraged to attend! jiyonshim.com
Friday, March 23
1:30-2:30 pm: Nickerson High School Jazz Band & Madrigals will be performing on the shuttle wing and observation deck.
6:00-7:00 pm: Local Indie Rock band Yogi Bogi will play from the shuttle wing.
Saturday, March 24
11:30 am -12:30 pm: Kissed by a Gypsy (Adam and Maggie Pounds), Folk Music, on the shuttle wing (first half of performance is for kids). simpleabundancefarm.com
5:00-6:00 pm: Instrumental guitarist, Ryan Coon, will be playing from the shuttle wing.
Sunday, March 25
12:30-1:00 pm: The State Fair Promenaders will be dancin' away in the lobby. Check out this fun demonstration and feel free to join in!
4:00-6:00 pm: Fezziwigg, Celtic band, on the shuttle wing. fezziwigg
Wednesday, March 28
12:00-1:30 pm: Trevor Stewart playing various instruments, trevorstewartmusic.com
*More performances coming soon. Performances are subject to change.
Children's Activities
Get a taste of Cosmosphere science education experiences during Spring Break. Learn about underwater robots and flying drones, use special solar equipment to see the sun and take a guided tour through the Cosmosphere's amazing space artifact collection.
Experience hands-on children's activities at the Innovator's Workshop in the Cosmosphere lobby daily.
Space Out Saturday — Offered twice in March!
Take advantage of the Cosmosphere's FREE family event, Space Out Saturday, twice in March! On both Saturday, March 17 and again on Saturday, March 24, the Cosmosphere will hold Space Out Saturday activities.
A special kid's sing along, music related hands-on activities, storytime and more are planned!
From March 12 through May 4, the Cosmosphere will be collecting non-perishable food itemsfor the Reno County Food Bank. While many donations come to the food bank over the holidays, the need in our community continues throughout the entire year. Help families in Reno County who struggle with hunger by donating canned goods today!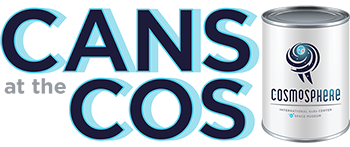 Plus, we'll have extended hours the week of March 12, we'll be open until 7 p.m.