For Immediate Release—8/19/21—Several galleries in Cosmosphere's Hall of Space Museum will undergo renovation and redesign beginning August 23. Three galleries will be renovated simultaneously. These areas will temporarily close to the public starting August 23. The Cosmosphere anticipates they will re-open in time for the holiday season.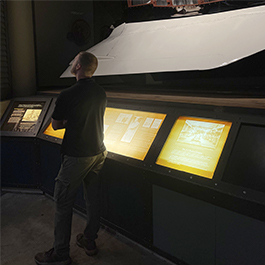 During renovation, all visitors receive discounted admission to the Hall of Space Museum. Visitors will still be able to experience all other parts of the museum, including the popular Apollo Gallery, featuring the flown Apollo 13 command module, Odyssey.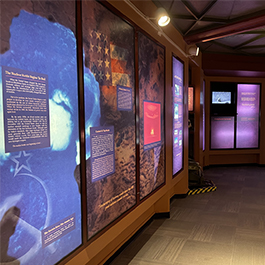 Visitors can also enjoy regularly scheduled space-themed documentaries and rotating feature films in Cosmosphere's Carey Digital Dome Theater. Cosmosphere's family-friendly Dr. Goddard's Lab science shows and planetarium shows continue daily on their regular schedules.
"We're renovating some of the oldest galleries in the Cosmosphere," said Jim Remar, President and Chief Executive Officer. "After 20 years of appreciation from the public, they have some wear and tear. Upgrades from this renovation will include better lighting, a more open layout, and a truly chronological presentation from early rocketry through the start of the space race. These upgrades will allow visitors to better engage with our unique artifacts and displays."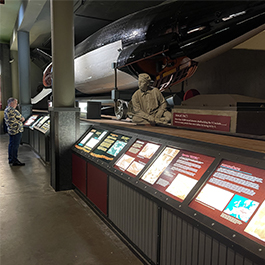 Before pictures (inset). Wait until you see the after!
See layout of new V-2 Gallery (currently the German Gallery) here.
See layout of Cold War and Kennedy Galleries here.
# # #
The Cosmosphere International SciEd Center & Space Museum is located at 1100 North Plum in Hutchinson, KS. Its collection includes U.S. space artifacts second only to the Smithsonian's National Air and Space Museum, and the largest collection of Russian space artifacts outside of Moscow. This unique collection allows the Cosmosphere to tell the story of the Space Race better than any museum in the world while offering fully immersive education experiences that meet the Next Generation Science Standards. The Cosmosphere also features the Carey Digital Dome Theater offering documentary showings daily; a digital Planetarium and Dr. Goddard's Lab, where visitors experience live science demonstrations.