For Immediate Release—8/27/21—One American wasn't on Earth when the terrorist attacks of September 11, 2001, occurred. A new exhibit opening September 1 at the Cosmosphere in Hutchinson, KS, conveys the story of 9/11 as recorded from space.
On that date, astronaut Frank L. Culbertson, Jr. was 250 miles above Earth aboard the International Space Station.
When he learned of the attacks, the ISS was about to pass over New England. Culbertson grabbed a digital camera and moved to a window where he had a clear view of New York.
The photo he snapped, showing the view from space of smoke pouring from the Twin Towers after they had both been hit, creates a unique and poignant record of that day.
Cosmosphere's exhibit includes a giant view of that image as well as the first public display of the actual camera Culbertson used to take it.
"The dichotomy of being on a spacecraft dedicated to improving life on the Earth and watching life being destroyed is jolting to the psyche, no matter who you are," Culbertson recalls.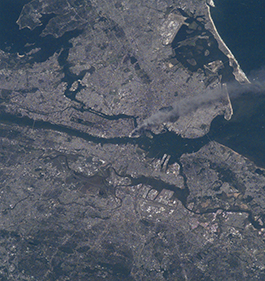 The new exhibit, located in Cosmosphere's rotunda gallery, will continue through September 30.
"Those of us who remember September 11, 2001 typically have very specific memories and emotions associated with that day," said Mimi Meredith, Cosmosphere senior vice president of communication and chief development officer. "To see the image of the destruction from the perspective of space creates a sense of relevance we might not otherwise have. Just as countless astronauts have said as they look back on their home planet, Earth is a beautiful, yet fragile place. Perhaps that is what our visitors will take away from this exhibit."