223 years ago, 5,123 miles away from Hutchinson, Kansas, a pioneering experimental physicist invented something that would become so vital to modern technology that without its power, cars, phones and laptops are called "dead."
That invention? The electric battery.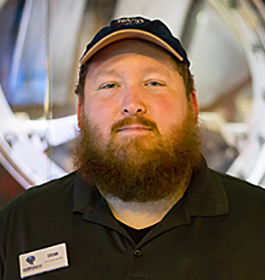 Making the Science Behind the Invention Easy-Access
Around fifteen years ago, before the idea of working in the education department at Cosmosphere was even a twinkle in his eye, Stefan Carlin (right) visited the Tempio Voltiano, a museum in Como, Italy dedicated to Alessandro Volta, the electric battery's inventor. Displays of Volta's original batteries made a big impression.
Today, as Content Specialist in Cosmosphere's Education Department, Carlin is collaborating with Tempio Voltiano museum staff to produce a video in English about these fascinating artifacts, along with the story of their invention, to inspire and educate Cosmsophere audiences through Cosmosphere's newest STEM education venture, LaunchLearning.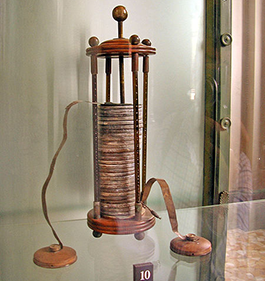 Image right: The "voltaic pile," Alessandro Volta's pioneering electric battery design. Image credit: WikiPedia
Carlin notes that re-creating Volta's original design using a pile of pennies is a STEM education chestnut.
But he couldn't find a quick way for youngsters to reliably hold the penny pile together during experiments.
So Carlin invented and 3-D printed a custom penny holder (pictured here) for Cosmosphere's LaunchLearning hands-on STEM activities.
With a special notch on the bottom for attached wires, of course.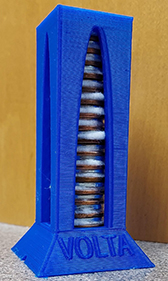 That's Cosmosphere for You!
Carlin's drive to continually make STEM education easier, more exciting, and more accessible, his depth of STEM knowledge, and his passion for history characterize what sets Cosmosphere's entire education staff apart from all the rest.
It's why Cosmosphere Camps, field trips, adult group tours, outreach, adult space camp, teacher professional development, and everything our education department touches—is filled with fuel for your imagination.
New This Year
Learners everywhere can absorb Cosmosphere education staff's megawatt-talent and energy through Cosmosphere's new virtual learning website, LaunchLearning. It presents STEM topics as only Cosmosphere, an International Sci-Ed Center and Space Museum, can.