TEACHERS AND EDUCATORS: Join Cosmosphere's Education Team for CosmoCon: Titan Teacher Training — inquiry-based science activities to launch in your classroom.
Friday, March 17, 2023
9 am – 3 pm
Planet Comicon Kansas City
Kansas City Convention Center
Conference Center Meeting Room 1501B
Kansas City, Missouri
FREE to the first 75 K-12 teachers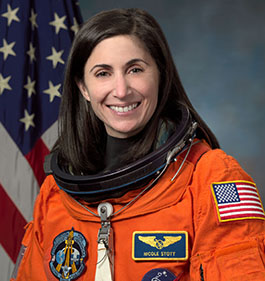 Cosmosphere's LaunchLearning program and astronaut Nicole Stott team up to bring you a day of rejuvenation and excitement for your STEM teaching!
Join Stott and Cosmosphere's education team (several who've come from the classroom, themselves) for experiments with seeds that have flown into space, examples of student-driven experiments you can use right away in your classroom, and a relaxing "buzzword breakdown" to define concepts, commiserate about challenges, and spark renewed excitement about "inquiry" in science.
Teachers will leave with:
One launched experiment (with basil seeds flown to the edge of space) to share with students.
A professional group photo with Astronaut Stott. (No selfies or autographs, please, but DO rock your fandom threads or cosplay for the workshop and photo opp!)
The confidence to slay the four levels of inquiry and a rocket-boost of enthusiasm and expertise for new routes to high-level open inquiry.
Free LaunchLearning lessons, activities, and materials for easy NGSS- and DCI-aligned open inquiry experiences in your classroom.
Questions? Contact Cosmosphere's vice president of education, JoAnna Strecker, at joannas@cosmo.org. 
Sign up today! Space is limited. Click here for the sign up form, and we'll see you in KC!