For Herrington, It Started With a Love of Launching Living Things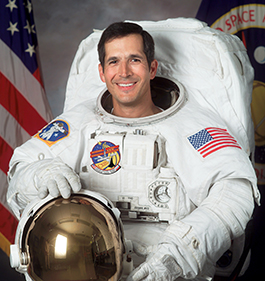 Former NASA astronaut John Herrington, a citizen of the Chickasaw Nation, remembers the thrill of exploring rocketry with his dad and brother when he was a kid. Early on, he was especially curious about the effects of flight on other Earth-bound beings. In a short video he made with MacGillivray Freeman called "Meet John Herrington," he recalls:
"I used to be fascinated by flight. My dad and my brother, we used to build rockets. We had bunches of these little black beetles in Colorado. I'd pick up a beetle and I'd stuff it into the payload. I'd launch the rocket and let the beetle out to wobble back and forth when they came back. That was my early attempt at being a scientist."
Today, Herrington holds a Ph.D. in Education and a place in history as the first member of a federally recognized tribe to travel to space. But his own path wobbled back and forth a bit before it included these achievements.
Not Your Typical Astronaut Story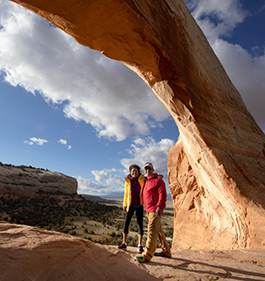 When Herrington first started college, rock climbing was such a big priority in his life that it overtook academics. He was suspended from school for poor grades. But eventually, climbing brought him back to the classroom.
He applied his climbing skills to work on a survey crew, where he was exposed to the real-world importance of math. This awakened a passion for learning in him, and he eventually returned to college and earned an engineering degree. Following the advice of a retired Navy captain, he joined the Navy. This decision led to his 22-year career as a Naval aviator, test pilot, and, eventually, a NASA Astronaut.
He has logged over 3,800 flight hours in over 30 different types of aircraft!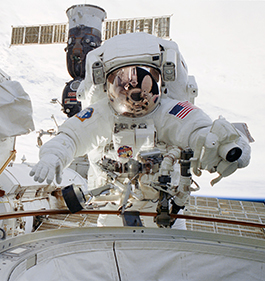 November 23, 2002, he launched on his historic trip to space on shuttle flight STS-113. The mission took him to the International Space Station, where he completed three spacewalks.
Back on Earth, he returned to campus and earned a PhD in Education. He has authored a children's book and reached many thousands of people through his work on Into America's Wild, a MacGillivray Freeman film about the importance of connecting with and caring for wild communities on Earth. He is a popular speaker, and his 2022 itinerary includes a visit to Hutchinson to speak to Cosmosphere audiences on December 6, 2022.
Watch our website and social for more details, coming soon!
Mann Continues the Story of Native People In Space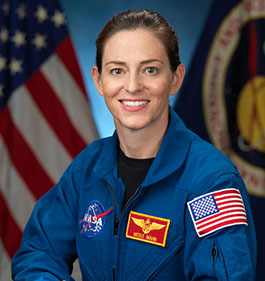 Twenty years after Herrington's history-making flight to the International Space Station, NASA astronaut Nicole Mann, a Wailacki tribe member, is currently working on board the ISS. A Colonel in the U.S. Marine Corps, she launched to the International Space Station as commander of NASA's SpaceX Crew-5 mission aboard the SpaceX Crew Dragon spacecraft on October 5, 2022, becoming the first indigenous woman from NASA to go to space.
Smithsonian Magazine notes: "Mann is also the first woman to serve in the commander role during a SpaceX mission. (Only two women—Eileen Collins and Pamela Melroy—held that position on NASA space shuttle flights before the agency retired that program in 2011.)"
Mann's piloting record includes more than 2,500 flight hours in 25 types of aircraft, 200 carrier arrestments and 47 combat missions in Iraq and Afghanistan.
In an interview with Spark Plug Labs, Mann talks about the impact of meeting an Astronaut on shaping her dreams and goals:
"I have one of the best jobs in the world. I didn't always realize it was a possibility. I thought, 'Who are these people who are astronauts.' I was an active duty marine in Iraq where I flew F-18s when I met Colonel Bresnik who had recently been selected to be an astronaut and that's when I realized I could do that."
In her first interview aboard the International Space Station, as reported in "Indian Country Today," Mann describes the importance of those who paved the way for her.
"There's a long line of people that broke down barriers throughout the years to create these opportunities, and I feel grateful to be able to participate and represent onboard the International Space Station and I really hope to continue that inspiration to other young children around the world," Mann said. "It makes me proud to be able to follow in the footsteps of those trailblazers of those other Native Americans and Native American women that have been involved in the aerospace industry and in engineering."
Learn more about Nicole Mann in her NASA biography and watch her recent interview (from space!) with the Associated Press.
Now That Mars Represents the Future of Space Travel, This Filmmaker Imagines Navajo People There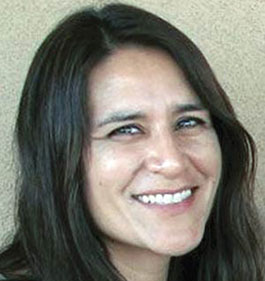 Navajo director Nanobah Becker's short film "The 6th World" depicts a woman-led Navajo crew traveling to Mars.
The film's logline hints at how the film blends contemporary space exploration topics with traditional ways of exploring one's place in the universe:
Astronaut Tazbah Redhouse is a pilot on the first spaceship sent to colonize Mars. But a mysterious dream the night before her departure indicates there may be more to her mission than she understands.
Scenes of the red planet are echoed in the red hues of the landscapes in the Navajo nation.
Image: Navajo director, Nanobah Becker
You can participate in Becker's future vision by watching "The 6th World" (15 min.) here.