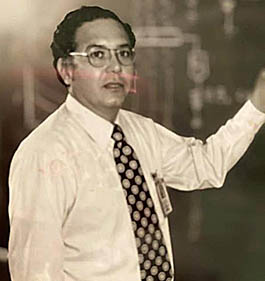 With anticipation for the launch of Artemis I continuing to build, many have heard the name of a Hispanic hero of the U.S. space program that they may never have heard of before.
For Hispanic Heritage Month 2022, Cosmosphere highlights the life and legacy of Arturo Campos (1934-2001), a NASA electrical engineer who was among those instrumental in the safe return of Apollo 13 in 1970. The research mannequin in the Commander seat of the Orion capsule set to be launched in the Artemis I mission is named in his honor.
From Dad's Auto Shop to NASA
Born to a Mexican-American family in Laredo, Texas, Campos worked in his father's auto mechanic shop in high school. He then went on to study at Laredo Junior College. He completed his education at University of Texas, where he earned a degree in electrical engineering in 1956.
After college, Campos worked as a civilian supervisor in aircraft maintenance at Kelly Air Force Base in San Antonio. When the opportunity arose to join NASA in the early 1960s, he began a new chapter in his life, eager for the challenge and excitement of being part of a team supporting the human exploration of space.
Campos worked on spacecraft electrical systems right from the start at NASA. As the Apollo program developed, he became one of the experts working on lunar module electrical systems. In fact, he was one of the engineers responsible for the electrical system in the first lunar module to land on the Moon, Apollo 11's famed Eagle.
Outstanding Career Includes a Standout Mission
After an almost 20 year career at NASA, Campos retired from the agency in 1980 with many successes to look back on:
He worked to increase participation of Hispanics in space and STEM fields. He convened fellow Mexican-American engineers at NASA to form a special chapter of the League of United Latin American Citizens that provided college scholarships to Hispanic students. He joined additional efforts to bring more Hispanics into the space program and was known for encouraging Hispanics to pursue more technical careers.
He safeguarded workplace equality for Hispanic professionals at NASA. At Johnson Space Center, he became Equal Employment Opportunity and Affirmative Action Program representative and participated in the employees' Hispanic Heritage Program.
He contributed his electrical engineering expertise to dozens of NASA projects, including several during the Apollo program.
His role in one historic mission stands out as especially dramatic.
The Phone Call Surprised Him in the Middle of the Night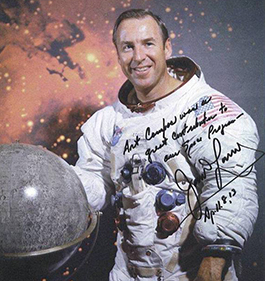 Awakened by a phone call in the middle of the night on April 13, 1970, Campos had to head into NASA's Manned Spacecraft Center (now Johnson Space Center) immediately. There was an emergency with Apollo 13. The mission control team needed his help to solve a life or death problem.
An explosion in a service module oxygen tank had cut off the command module's supply of electricity, light, and water. The astronauts who originally planned to complete humanity's third Moon landing mission now desperately needed a plan to bring them safely home. At that time, they were about 200,000 miles away from Earth.
The astronauts could take temporary shelter in the lunar module, but they'd eventually need the command module systems running for a safe return to Earth. Only the command module had a heat shield designed to protect the spacecraft and crew from blazing temperatures generated by reentry into Earth's atmosphere. The command module was, in effect, their lifeboat.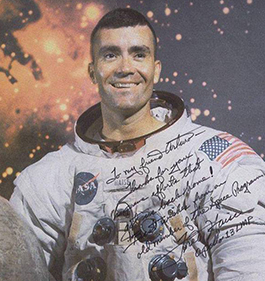 Fortunately, Campos himself had previously written a contingency plan for a power emergency in the command module. His plan called for diverting power from the lunar module. The lunar module had an electrical system he knew particularly well, as he was the manager overseeing Apollo 13's lunar module electrical power subsystem.
Once he arrived back at NASA, Campos worked intently with teammates in the Mission Evaluation Room to adapt the plan for Apollo 13's real-world requirements. The modified plan eventually provided enough power for the astronauts' safe return in the command module.
Later that same year, the entire Mission Operations Team, which included Campos, was recognized with a Presidential Medal of Freedom in honor of their life-saving efforts.
Inset images: Autographed pictures of Apollo 13 astronauts Jim Lovell and Fred Haise, addressed to Arturo Campos. Credits: Courtesy of the Campos Family
New Generation of Space Explorers Gets Inspired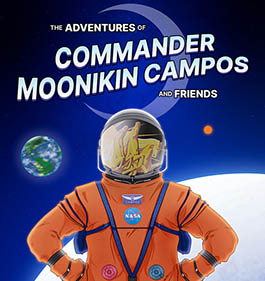 The legacy of Arturo Campos continues, now that one of the mannequins traveling aboard the soon-to-be-launched Orion capsule is named in his honor.
In the summer of 2021, NASA held a naming contest for the mannequins scheduled to travel to space on Orion as part of the Artemis I mission. The mannequins play an important role in research and testing, as sensors on and near them measure the effects of spaceflight on the human body.
Hundreds of thousands of votes came in via social media, resulting in the winning name, "Arturo Campos", assigned to the mannequin who will fly in Orion's commander seat.
To bring the excitement of the human exploration of space to a new generation, NASA created an online comic with Commander "Moonikin" Campos as its hero.
In a callback to Campos' important role in the Apollo 13 mission, the galloping horses of the Greek god Apollo's chariot, which is an image from the Apollo 13 mission insignia, is reflected in Commander Moonikin Campos' visor.
Inset image: Part 1 of this three-part online comic series introduces Commander Moonikin Campos and his fellow moonikin crewmates. Image credit: NASA
Click here to enjoy The Adventures of Commander Moonikin Campos and Friends.
Cosmosphere is home to the flown Apollo 13 command module, Odyssey. Learn more here. 
Sources:
"Public Names 'Moonikin' Flying Around Moon on NASA's Artemis I Mission, June 29, 2021, NASA.
"Arturo Campos: A Key Player in Bringing Apollo 13 Home," July 2, 2021, NASA.
#SmithsonianHHM #HispanicHeritageMonth