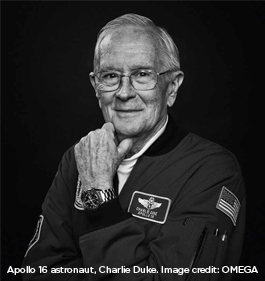 Like a dazzling star, the OMEGA Speedmaster Moonwatch Professional may seem nearly overwhelming in its beauty, at first glance.
And we're not just saying that because we've been eyeballing the brand-new watch one lucky winner will claim Oct. 23.
It's a true marvel!
But if you're thinking about buying tickets for the drawing, you may also be thinking: that's a LOT of watch. Can I handle it?
Learn more details about the Speedmaster Moonwatch offered in the drawing.
You Can Be the Master of Your Own Speedy
You certainly CAN master this elegant yet simple-to-operate piece of technology.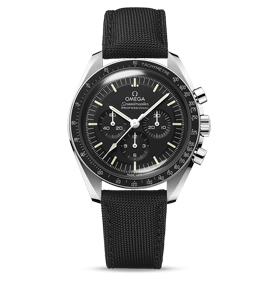 Let's take a tour of some of the basic specs you need to know in order to savor this marvelous watch.
Hesalite case: the version we're selling features a Hesalite glass case that allows for a clear view of the face from all angles.
Bonus: This is the same type of case that was on the OMEGA Speedmasters that went to the Moon with the Apollo missions!
Bonus-bonus: the Hesalite version of this watch is even more accurate than the pricier sapphire-case version. When you look at it on your wrist, you can congratulate yourself for your beauty AND brains!
Three subdials:
At the 3 o'clock position, a minute subdial goes up to 30 minutes.
At 6 o'clock, an hour subdial tracks up to twelve hours.
A running seconds subdial at the 9 o'clock position keeps track of seconds passing throughout the day.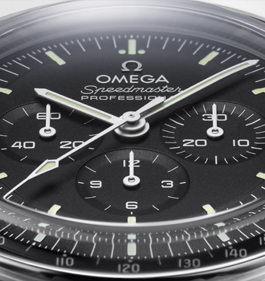 Center-mounted second hand: this does NOT track seconds throughout the day. Instead, it can be used as a stopwatch. It remains at the twelve o'clock position until you push the top button on the right-hand side of the watch.
Top button: starts and stops the center-mounted second-hand with a single push.
You can start a 14-second stopwatch timing session to recreate the 14-second burn needed on Apollo 13 for safe reentry to Earth's atmosphere. THIS is the watch model used to time that burn.
You can also use the second hand start-stop feature to indicate your speed per hour in miles or kilometers per hour. To do that, you'll need to use…
The gorgeous tachymetre engraved around the bezel.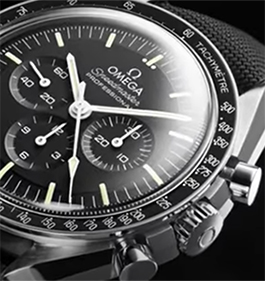 If you have a visual reference for two objects that are a certain unit of measurement apart (two mile markers, for example), use the start/stop feature for the center-mounted second hand by pushing the top button to start, and pushing it again to stop.
When you've stopped, the center-mounted second-hand will point to a number on the bezel.
That number indicates the number of units-per-hour you are traveling. Cool, huh? We think so!!
The middle button is for hand-winding the watch. This needs to be done at least every two days.
The hand-winding feature means you won't have to hassle with changing a tiny watch battery during your (real or imagined) space adventures!
The bottom button has a simple function that's easy to remember: hit it to reset the stopwatch function.
This returns the center-mounted second hand to twelve and re-sets the minutes and hours subdials (which, to review, track minutes up to 30 and hours up to 12 when the stopwatch, aka the chronograph function, is running).

The Back Is a Show-Stopper, Too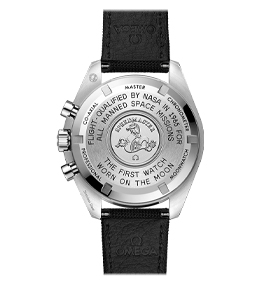 Curious about the Moonwatch's steel case back, with its conversation-piece inscription and iconic seal?
Watch the video "OMEGA Speedmaster Moonwatch Professional | 3 THINGS You Should Know BEFORE You Buy" by timepiece accessory entrepreneur and influencer Jenni Elle for a fantastic look at both.
In her video, you can also see how great this watch looks on a female wrist.
It's generally marketed to men, but of course in the 21st century, a boss watch like this can be his, hers, yours!
Take It All In, and Seize Your Fortune
Want to digest the functions we've covered in this blog post with a quick workplace-distraction-approved 3-minute video?
Follow along as Justin from Bob's Watches takes you through an OMEGA Speedmaster Instruction sesh that will leave you feeling like a future professional owner of a Moonwatch Professional.
Then take a deep breath and stake your claim in the drawing by clicking here to grab your tickets.
Ticket sales end October 20 at 11:00 pm CT. The winner will be announced October 23, so don't wait!
Proceeds help Cosmosphere finish remodeling the galleries that contain the greatest collection of space artifacts on planet Earth!
Tickets start at $25 for 1, 3 for $50, or get your lucky 7 tickets for only $100. Buy tickets here.
Images credit: OMEGA