Camille Calibeo, aka The Galactic Gal, chose a visit to the Cosmosphere for her first travel excursion as Galactic Gal since the start of the COVID-19 pandemic.
On Friday, July 23, the Cosmosphere hosted Camille for a full day of STEM and space-related activities. She shared great pics of her Cosmo adventures, and continues to recall the excitement she experienced here, on her lively Instagram platform.
Follow @thegalacticgal on Instagram to connect with Camile and her crew of space and STEM enthusiasts!
Who Is This Energetic Space and STEM Advocate?
The Galactic Gal describes herself as an aerospace engineer turned business strategist. She currently works in business development for Lockheed Martin in Denver, Colorado.
She also provides public speaking on a number of space, STEM and women-in-STEM topics along with freelance professional development coaching.
And of course: she's a social media influencer. Through her active and dynamic platforms on both Instagram and TikTok, Camille inspires young people, especially young women, to see themselves as future STEM and space-industry professionals.
In fact, it's because of one of her followers—one of these future space-industry pros—that Camille came to the Cosmosphere in the first place.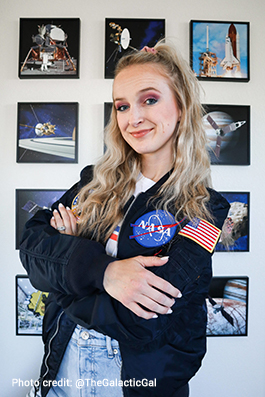 Women Supporting Women on Social Media: The Louisa Connection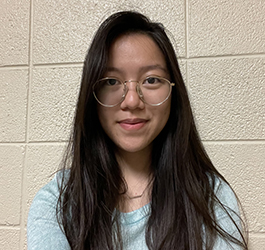 One of our all-star camp staff members, Louisa Angeline, follows The Galactic Gal and other women in the space industry for inspiration and career mentoring.
As an undergrad in aerospace engineering at Wichita State University, Louisa doesn't have many female classmates or mentors on campus.
She uses social media to see women engineers in action. "All these people like Camile, working engineers, they show us how they work with their companies. That's why I followed her," Louisa explains.
As Cosmosphere Camp staff, Louisa knows what a great place Cosmosphere is for space enthusiasts, so she messaged The Galactic Gal and suggested a visit.
"She said she'd heard of it," Louisa said, "but she never thought about going. Then other followers said it was really cool."
The power of persuasion (and the Cosmo Cool Factor!) ultimately brought Camille to us.
Highlights of The Galactic Gal's visit:
Camille says her personal mission is to "make aerospace, and space in general accessible to everyone."
She used her visit to advance that mission by making the Cosmosphere's museum and experiences accessible to her followers by sharing lively reels (Instagram videos) and posts of her time with us.
Her favorite sights included the Apollo 13 command module, Odyssey. "I almost cried when I saw it," she said. "I don't know why. I've been to so many space museums in my life. But these people almost didn't come back to Earth."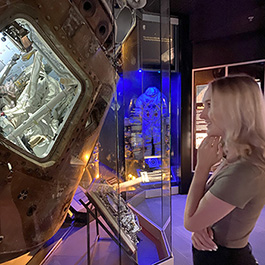 She was also moved by the symbolism of our Apollo-Soyuz replica, which shows how technological cooperation can literally connect two countries that had been enemies for years.
Experience is the best teacher:
As an engineer who works on advanced technologies for lunar travel and study, Camille felt that the centrifuge (which our campers experience) and the simulators were extremely valuable experiences.
They helped her think more concretely about how people experience movement in flight and in space.
"We don't get access to that in the real world," she said, "but if something doesn't work in the simulators, we know it wouldn't work for astronauts."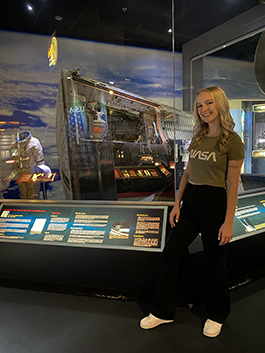 Our NaviGATOR simulator is open to the public. Come to the Cosmosphere and bring the young women in your life to come and see themselves as part of the exciting past and future of space exploration!