Join us Friday, June 16 from 5-7 pm to celebrate Sally's Night, the 40th Anniversary of astronaut Dr. Sally Ride becoming the first American woman in space.
Cosmosphere Curator, Shannon Whetzel, will share stories of Sally Ride, Valentina Tereshkova, and Svetlana Savitskaya…women who broke barriers and whose stories are told through artifacts in Cosmosphere's collection.
The event includes cocktails, non-alcoholic beverages, and appetizers. It is free to Cosmosphere members and $15 for non-members. Ticket information coming soon.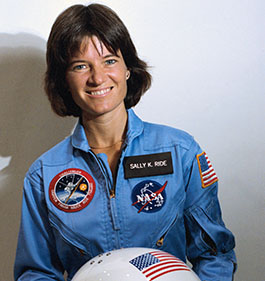 Interested in becoming a member of the Cosmosphere? Click here for more details.
For more information on Sally's Night or find an in-person event in your area, click here.
This project received Federal support from the Smithsonian American Women's History Initiative Pool, administered by the Smithsonian American Women's History Museum.