On the final Thursday of each January, NASA pays homage to lives lost in the Apollo 1, Challenger, and Columbia catastrophes.
You can pause for reflection and join in honoring those lost in several ways on Thursday, January 26, 2023.
On a special Day of Remembrance 2023 web page, NASA describes the purpose and particular importance of this year's Day of Remembrance:
"Each January NASA pauses to honor members of the NASA family who lost their lives while furthering the cause of exploration and discovery, including the crews of Apollo 1 and space shuttles Challenger and Columbia. In 2023, the Day of Remembrance will be observed on Jan. 26, and will also mark the upcoming 20th anniversary of the loss of the Space Shuttle Columbia on Feb. 1, 2003."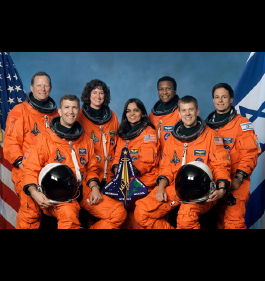 Space shuttle Columbia was destroyed on re-entry February 1, 2003, due to damage in one= wing caused by a piece of foam that fell from the external tank during launch. The accident claimed the lives of the seven-member crew just 16 minutes before they were scheduled to land.
Image: STS-107 Crew (l-r): Mission Specialist 1 David M. Brown, Commander Rick D. Husband, Mission Specialist 4 Laurel Blair Salton Clark, Mission Specialist 2 Kalpana Chawla, Payload Commander Michael P. Anderson, Pilot William C. McCool, Payload Specialist 1 Ilan Ramon. Image Credit: NASA
When a fire broke out in the Apollo1 capsule during a pre-launch test on January 27, 1967, we lost the three-man crew of Apollo 1.
Image: Apollo 1 Crew (l-r): Virgil I. Grissom, Edward H. White and Roger B. Chaffee. Image credit: NASA
A failed o-ring in the right solid rocket booster caused the space shuttle Challenger to explode 73 seconds after launch on January 28, 1986, claiming the lives of all seven aboard.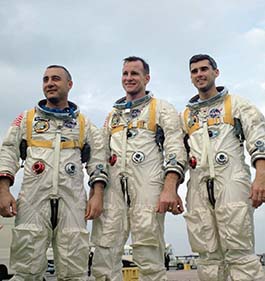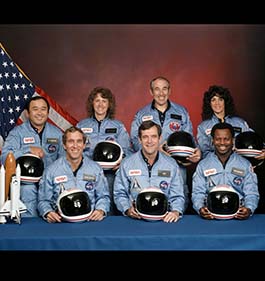 Image: STS-51L Crew (l-r): Mission Specialist Ellison S. Onizuka, Pilot Michael J. Smith, Payload Specialist Christa McAuliffe, Commander Francis R. "Dick" Scobee, Payload Specialist Gregory B. Jarvis, Mission Specialist Judith A. Resnik, Mission Specialist Ronald E. McNair. Image Credit: NASA
Three Ways to Engage
If you wish to observe NASA's Remembrance Day, here are three ways you can spend some introspective time:
1. Reflect on crew members' lives or study investigation details
Take in crew member biographies or learn about the investigations and conclusions for each of these calamitous losses at the NASA History site:
2. Watch and share NASA's observance activities online
10:00 a.m. EST on January 26, 2023 NASA's Kennedy Space Center and The Astronauts Memorial Foundation will livestream a Day of Remembrance ceremony on Kennedy's YouTube channel and Facebook page.
3. Learn more about artifacts in Cosmosphere's collection from Apollo 1, Challenger and Columbia:
This stained glass window in Cosmosphere's Rotunda is a memorial for the 17 astronauts lost in the Apollo I, Space Shuttle Challenger and Space Shuttle Columbia missions. It features images of the patches from the three lost missions and artifacts embedded in the glass: actual shuttle tiles from Columbia and Challenger and a wiring block from the Apollo I launch pad.
Cosmosphere visitors can recall and admire the legacy of Apollo 1 Astronaut Gus Grissom by getting an up-close view of the Liberty Bell 7 capsule he flew as only the second American in space sixty years ago.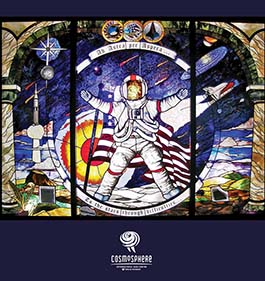 Cosmosphere's Hall of Space Museum Shuttle Gallery offers the chance to reflect on human dimensions of shuttle missions through contemplation of artifacts from the very first crewed shuttle mission (on the Columbia shuttle) through the robust history of the shuttle program, including the following authentic items:
3 Point Latch Tool Bag, flown on STS-1
Columbia orbiter window, flown on five missions
Mission Time Clock, flown on four shuttle missions
Online, Cosmosphere's LaunchNext portal provides virtual access to important Challenger artifacts not currently on public display:
Ad Astra, per Aspera
In a news release last week, NASA Administrator Bill Nelson notes that meeting the challenges of space exploration while embracing the value of safety is an ongoing effort:
"NASA's Day of Remembrance is about pausing, remembering, and uplifting the legacies of the NASA family who gave their lives to advance the cause of discovery. As we continue to expand humanity's reach in this new era of exploration, we must always embrace NASA's core value of safety."