Who Was Volta?
Italian physicist Alessandro Volta invented the battery in 1799. He was born on February 18, 1745. We wanted to celebrate his birthday on the closest school day, February 17, with our favorite people: STEM learners and an astronaut!
Image: Alessandro Volta with his electric pile, or wet battery, in an illustration by Louis Figuier, 1870.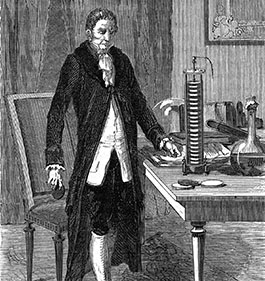 How Can Students Join the Fun (And Meet Science Standards) February 17?
Join Us Virtually:
Classes in grades 3+ are invited to watch the world premiere of a recorded interview and custom instruction from Astronaut Luca Parmitano starting at 10:00 a.m. on February 17 or any time thereafter.
Parmitano created this video exclusively for Cosmosphere's LaunchLearning program. In it, your students will:
Learn how the Italian physicist Alessandro Volta's invention of the battery powers space exploration today.
Get step by step instructions for exploring energy and engineering by completing The Battery's Bodacious Journey. This activity meets energy and engineering DCIs!
Additional Materials Available for Virtual Participants:
We're giving away custom 3-D printed battery kits (pictured here), designed by Cosmosphere's LaunchLearning team especially for The Battery's Bodacious Journey. Work along with Parmitano as you build a recreation of Volta's first battery in front of your students!
FREE to the first 100 teachers who email schools@cosmo.org. Please include your name and mailing address. We'll ship your individual kit ASAP. Image: Cosmosphere's custom battery kit recreates Volta's first battery using pennies.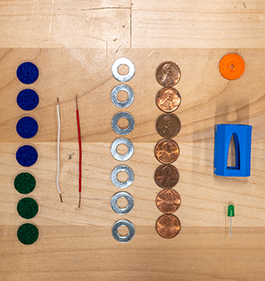 Or, purchase a class set of kits so every student can build a battery along with an astronaut! $2/kit plus shipping.
Email schools@cosmo.org with your name, the number of kits you'd like to purchase, and a mailing address. You'll receive an invoice by email. Image: Cosmosphere's completed battery. Battery kit pieces might vary.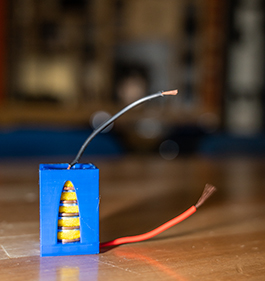 Luca Parmitano Is the Perfect Guide
As an Italian himself, Luca Parmitano is enthusiastic to share the historical importance and the science behind Italian inventor Allesandro Volta's first battery.
Parmitano is an astronaut with the European Space Agency (ESA) and a Colonel in the Italian Air Force. Through the ESA, he has also worked as a "cavenaut" and "aquanaut." He has completed two missions to the International Space Station and is the first Italian to take part in a spacewalk.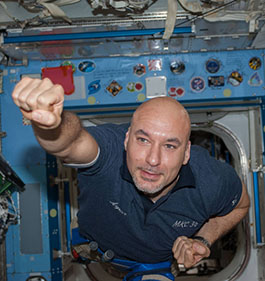 He knows first-hand the importance of battery power in space! Parmitano even helped install the new lithium batteries that power the International Space Station today.
If You're Ever in Italy
The beautiful Tempio Voltiano museum honors the work of Alessandro Volta. Located in the lakeside town of Como, Italy, where Volta was born and died, their collection includes a first version of the electric battery (pictured here).
Image: The Tempio Voltiano museum in Como, Italy, honoring the work of Alessandro Volta. Image credit: Italy Magazine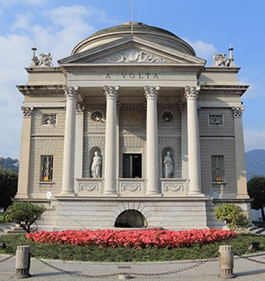 Image: Volta's first battery used an arrangement of copper discs known as the Voltaic Pile.