A number of cultures use, or have used, the lunisolar calendar. Measuring time this way, the second new Moon after winter solstice kicks off a new year and marks the beginning of spring.
China, Korea, Vietnam, Taiwan and Mongolia hold fifteen-day celebrations for Lunar New Year. The official dates of the holiday vary by culture, and while many Asian American and Pacific Islanders do not follow the Chinese/Lunar zodiac, countries around the globe with large Chinese populations typically have lunar new year celebrations, as well.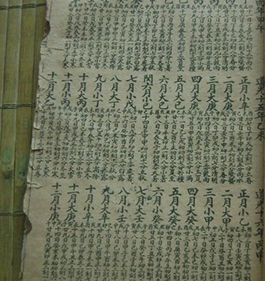 The Smithsonian National Museum of Asian Art's Lunar New Year Celebration page describes how various cultures associate a different zodiac animal with the new year. "In the Chinese zodiac, 2023 is the year of the rabbit. In the Vietnamese and Gurung (Central Nepal) zodiac, the cat replaces the rabbit. In the Malay zodiac, the mousedeer replaces the rabbit."
The Moon's Unique Cycle and Unmistakable Appearance
12 full cycles of the Moon take approximately 354 days. Lunisolar calendars make up the difference between the lunar year and the solar year's 365 days by periodically adding a month.
If lunar new year prompts you to ponder the Moon, here's an interesting number to share over family meals: there are over 300,000 craters wider than half a mile on the near side of the Moon alone. That complex topography enhances our fascination with the sight of our nearest neighbor in the skies.
Image: Record of the Chinese lunisolar calendar for 1834, 1835, and 1836. Image credit: Wikipedia
Deepen Your Knowledge
To learn more about the customs and traditions of Lunar New Year, you can now book a free virtual Lunar New Year tour with the Smithsonian National Museum of Asian Art. These live, interactive Zoom tours feature images of artworks and allow online visitors to talk with museum docents. Participants will discover popular themes associated with Spring Festival celebrations, read auspicious messages in decorative motifs, and learn the symbolism of new year colors, plants, and animals.The tours are designed for groups of ten or more and should be booked four weeks in advance. Click here to find out more and book your free virtual tour.